FAQ


FAQ of the Daughters of Mary Mother of Our Savior
Below are a list of some frequently asked questions of the Daughters of Mary Mother of Our Savior.
Q1. What works does your Order do?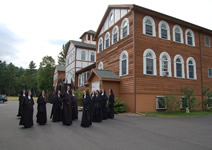 A1. The first and most important work of our Congregations is to return gratitude to the Sacred Heart and make Him more known and loved.
We do this chiefly by the daily Holy Hour which we spend before the Blessed Sacrament. On Thursday we do this hour from 11p.m. to midnight as was requested by Our Lord to St. Margaret Mary.
Q2. Do all the Sisters teach?
A2. As stated above, our first work is to return gratitude to the Sacred Heart. 
We can do this in many ways. Some Sisters teach, others are secretaries at our schools, some cook and take care of the houses where other Sisters teach. At the Motherhouse, there are Sisters who sew our habits, make vestments, hosts, and rosaries, do book-binding and other office work necessary for the Congregation.
Q3. What must I do to enter the Congregation?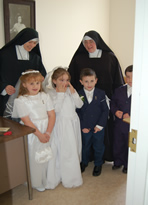 A3. The first step is to write a letter to the Mother General.
You should tell her of your desire to enter the religious life and include information about yourself and your background. If the Mother General believes you have the necessary qualifications to become a Sister, she will invite you to visit the convent. An application, letters of recommendation, and other required documents must then be submitted. If a candidate is found suitable, she will be sent a letter of acceptance.
Q4. What qualities are necessary to be accepted?
A4. Our congregation requires that a candidate:
Have the proper spiritual, mental, and physical abilities to practice with regularity the austerities and other observances of religious life.
Have sufficient virtue, a desire to seek evangelical perfection, and the ability to accept and apply corrections.
Be free from any debts which they are unable to satisfy.
Be single.
Belong to the traditional Catholic Faith and not be associated with the Novus Ordo Church, schismatic groups, or groups with doubtful sacraments.

 

Have graduated from high school and be under thirty-five years of age.
Q5. How long is the Novitiate?
A5. The postulancy, a probationary period, lasts nine months, from September through July. A two-year Novitiate follows, ending with profession of first vows in July. After 6 years of temporary vows, perpetual vows are made.
 Q6. Is there any tuition?
A6. We ask if it is possible for the family to pay a fee of $200 each month of postulancy and novitiate for food and lodging. 
After Profession, the congregation takes care of all expenses. A dowry of $2000 must also be provided before the end of the postulancy.
Q7. What is a dowry?
A7. The term "dowry" designates a certain amount of money entrusted to the religious institute by a new member. A dowry is required because, should a postulant, novice, or professed member leave the community, the dowry will provide the means for her immediate need. The dowry must be given to the convent before the postulant receives the habit.
Q8. How can I make a donation?
A8.
Please
click here
if you would like to make a donation to the Daughters of Mary.